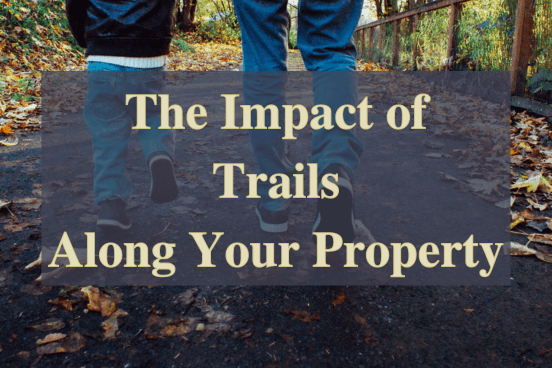 Recreational Trail Use's Impact on Your Property
When discussing rails-to-trails claims with landowners, the prospect of an open invitation to the public to the landowners' property is often the primary concern with the imposition of the recreational trail. These landowners, like all landowners, value their privacy. Understandably, they simply do not want the public to walk through their backyards.
Yet rail-trails are almost always constructed at the rear of homes, and that throws a wrench into the ordinary understanding of where a home finds its privacy. Homes are designed with the understanding that the non-street facing side of the home gets more privacy. Bedroom windows typically face the rear or side of the home, and social spaces like patios and pools are installed with the expectation of privacy and freedom from street noise.
This all changes when a rail-trail is installed. Now, the landowner's private space is disturbed. Their private pool or social space is no longer private. Where once there was a long-dormant railroad line (in most cases the railroad line has been dormant since the time the landowner acquired the property), now it is a bustling space full of families, cyclists, runners, walkers, and various other recreational enthusiasts. Now, bedroom curtains must always be drawn, noise abounds, dogs bark at passers-by, and there are constant stares from those on the rail-trail.
And that is just the people who use the trail properly. There is also the other element – those who use the trail for improper purposes. Rail-trails can act as a conduit for misbehavior such as theft, trespassing, loitering, or littering. Often, trail users wish to exit the trail at places with no public access route, which means they often cut through landowners' properties. This is not just intrusive; it is unsafe for the landowner and the trespassing person. A person could injure himself on the property or be attacked by a pet. The possibility of injury is greater if the property is not residential, but instead commercial or industrial.
Installing a wood privacy fence is sometimes an option. But those are expensive. It is an expense the landowners would not have if the land were still a railroad or, better yet, if the land had reverted to the landowner's ownership. Expert real estate appraisers hired by Stewart, Wald & Smith, LLC and working on behalf of landowners often recommend that the government be made to pay the cost of the construction of a wood privacy fence. Even so, some zoning regulations might not allow for certain types of fencing. There is also the option of landscape buffering, but this option comes at an installation cost and the landscaped area itself takes up space that would otherwise be available for other use.
Still, such remedies are at most a partial solution, as a fence cannot entirely eliminate the intrusiveness of rail-trails. Fences can be scaled, gates broken, and bushes do not create a strong defense. That is why landowners are still entitled to awards that include the loss of value associated with being directly adjacent to a rail-trail.
Property Values and Rail-Trails
Although rail-trails are recognized as an amenity in communities, there is always a significant part of the real-estate market that does not want to live so close to rail-trails. This dislike is tangible in that one can generally expect that people will pay less money for a lot of land that is adjacent to a rail-trail than a lot of land that is not adjacent to a rail-trail.
When landowners are informed of this, they sometimes note that it seems that, if the rail-trail increases property values in the community, then it would make sense that the rail-trail increases their property's value. This is, after all, an amenity to the community. While that may be true, what is also true is that the landowner's taxes have paid for the amenity as much as anyone else's in the community has. Therefore, the landowner is entitled to the general increase in value because of the amenity.
All public projects funded by the public are designed to benefit the community in some manner. It is just that certain members of the public – those who live directly adjacent to trails – should not be expected to pay more for the project than others.
The intrusiveness of rail-trails is a problem. That is why a rails-to-trails lawyer should always explore (with the help of experts) whether damages to account for the possibility of increased foot traffic, the possibility of theft, trespassing, and littering should be considered.
A home is meant to be private. Therefore, it is particularly upsetting when landowners have their privacy taken away. For example, those residing in rural areas sometimes live there in order to be away from the bustle of urban areas. The intrusiveness of rail-trails disturbs their tranquility.
Even though rail-trails are rightly viewed by some as amenities, they do come with a cost. Trail-adjacent landowners should not have to pay for such costs.