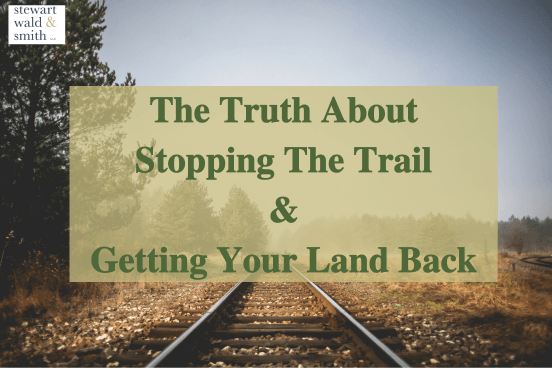 When I meet landowners who are learning about rails-to-trails litigation for the first time, they often express a similar sentiment. Rather than wanting to discuss whether they can recover money from the federal government for a taking of land, they often want to know whether they can hire my law firm, Stewart, Wald & Smith, to stop the recreational trail from happening at all.
The simple answer is landowners cannot stop a rail-trail from moving forward by filing a lawsuit. The reason it cannot be stopped through legal action is because of a United States Supreme Court decision called Preseault v. United States, where Vermont landowners challenged whether the federal government had the power to authorize rail-trail conversions without the landowners' consent. The Supreme Court decided the federal government did have that power, and the landowners' only remedy was a money award from the federal government based on constitutional rights to "just compensation" when the government takes private property for public use.
That is why any lawsuit brought by Stewart, Wald & Smith is solely about whether the federal government must compensate landowners for the taking of their land, and if so, the amount of money the landowners are entitled to collect. Sometimes the sum is large, sometimes it is small, or anything in between, but it is not about stopping the trail.
The views held by a landowner about whether they want the trail or not can be very strong, and with good reason.
A landowner who disfavors the trail usually has understandable concerns, including loss of privacy and/or loss of security they believe will result from the trail;
whether they will have liability if someone is injured on the trail; and/or,
whether the trail group will adequately maintain the railroad corridor, among many more valid concerns.
A landowner who favors the trail usually has the understandable belief that a trail will benefit the community in various ways.
Regardless of the views of the landowner about whether a trail is a good idea, the lawsuits we bring have nothing to do with whether a trail will be stopped or not; the only thing that can possibly accomplish that is a political effort at the grass roots level. Instead, we simply are saying that if the federal government is going to turn an old railroad corridor into a recreational trail, which is essentially a linear public park, then the owner of that land should be paid compensation for the taking of their land rather than being made to effectively donate that land to turn it into a trail.
Click to hear more from Steve Wald.