Do you own land along the future Saluda Grade Rail Trail?



YOU MAY QUALIFY FOR COMPENSATION FROM THE FEDERAL GOVERNMENT.
Thank you for contacting us to advise us of our railroad right-of-way rights and representing us in this matter. It was handled very professionally and we were kept posted on any claim status in a timely manner."
HISTORY OF THE SALUDA GRADE RAIL TRAIL CONVERSION
A coalition of three nonprofit groups are spearheading the Saluda Grade Trail plans: Conserving Carolina, PAL: Paly, Advocate, Live Well, and Upstate Forever. These plans include purchasing the Saluda Grade railroad corridor and converting it into a 31-mile rail trail. The trail would begin in Inman, South Carolina (north of Spartanburg) and continue through Campobello, Landrum, Tryon, and Saluda before entering North Carolina and reaching Zirconia (south of Hendersonville). This trail would span 16 miles in South Carolina and 15 miles in North Carolina.
Conserving Carolina reports that The Saluda Grade Trail would be created through the federal railbanking program. The Surface Transportation Board ("STB") is a federal agency that oversees railroads.  When railroads under federal jurisdiction express interest to abandon their lines, a trails group may step in to make an offer to purchase the land and convert the railroad corridor to a rail-trail. The process of converting inactive railroad corridors to recreational trails and keeping the corridor intact for future rail use is called "railbanking".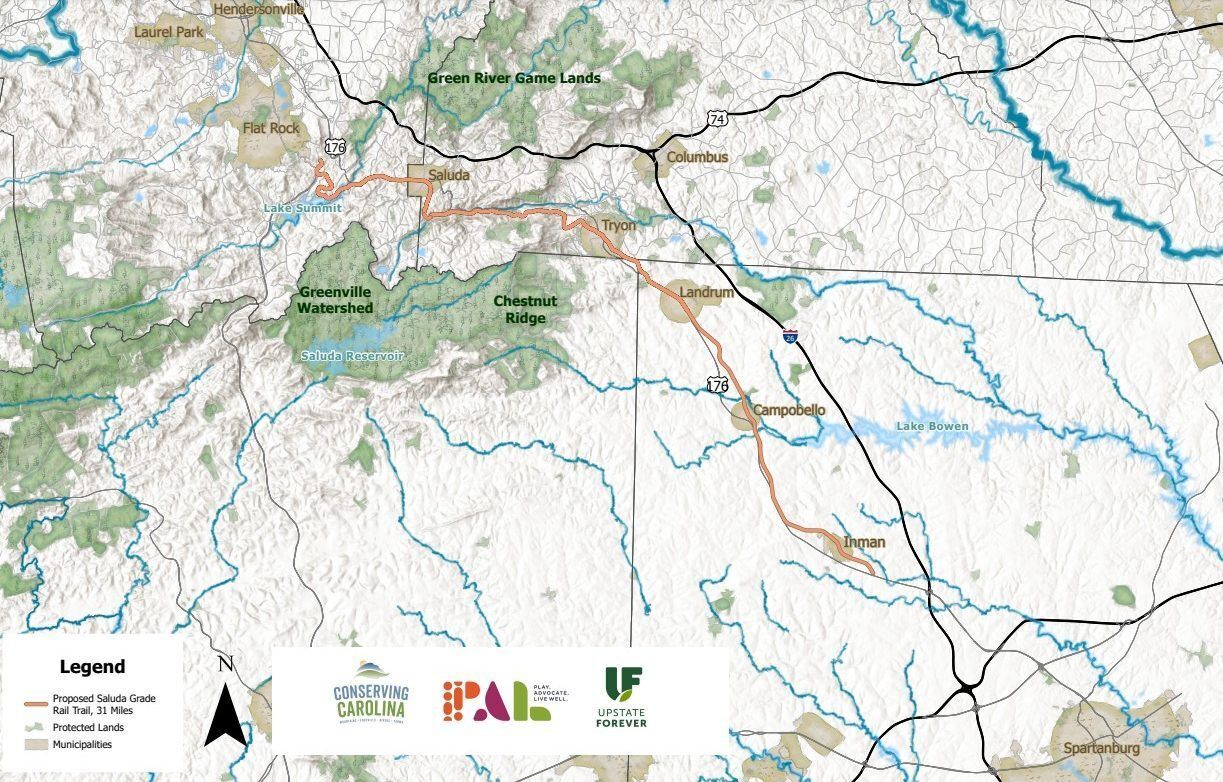 The Trails Act is a federal program that permits the conversion of railroad lines into nature and hiking trails. In this instance, the trail would comprise the current Saluda Grade rail corridor. 
If the STB permits a trail conversion, which we expect to occur in the near term, then this would potentially result in the triggering of a claim for money damages in your favor against the United States government. The claim results from the blocking of reversionary property rights in the railroad corridor. This taking would require the United States to pay you just compensation under the Constitution.  It is important to note that your claim would only be against the federal government and is NOT adverse to the Saluda Grade Trail or an local entity sponsoring the trail.
The claim would be based on North Carolina and South Carolina property law.  An owner of land that abuts a public right of way (in this case a former railroad corridor) is presumed to own a portion of the land within the right of way, such that when the railroad was ever abandoned the land would revert to their ownership.  This is what should occur with respect to the land that is slated to become the future rail trail.  However, as a result of the Trails Act, the federal government can authorize the inactive railroad to be converted to a recreational trail, thereby blocking a landowners right to regain the property within the railroad corridor, which would result in a taking of land.
Landowners whose property is taken for recreational trails rely on Stewart, Wald & Smith to recover money for them from the government. We have recovered more money in Rails-to-Trails litigation than any other law firm: $390 Million and counting.
Our firm has extensive experience handling Rails to Trails cases asserting the property rights of landowners against the federal government in the United States Court of Federal Claims.  We encourage you to review our listing of successful cases and compare it with other firms. Our specialized experience and skills have driven our unparalleled success, involving land in over 29 states.
At Stewart, Wald & Smith, our dedicated team takes pride in making your claims process clear and simple. You will never pay any fee unless the case is successful, and even then, the fee comes out of the award, and not your pocket. If we are not successful in the lawsuit, you do not pay our firm any fees or expenses whatsoever. If you would like to discuss your claim and understand your rights in more detail, please contact us.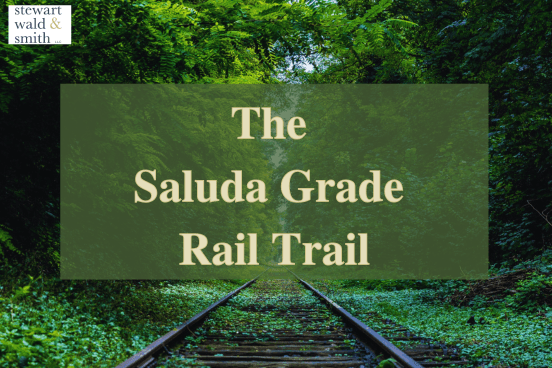 March 17, 2023
A coalition of three nonprofits (Conserving Carolina; PAL: Play, Advocate, Live Well; and Upstate Forever) that is spearheading the Saluda Grade Trail has reached an agreement with Norfolk Southern to sell the 31-mile rail line for use as a recreational rail trail.

Conserving Carolina made the announcement in a news release on March 16. The three nonprofits are leading efforts to repurpose the inactive rail line as a trail that will run from Upstate South Carolina into the mountains of Western North Carolina, the release said. The Saluda Grade Trail will run through the S.C. towns of Inman, Campobello and Landrum and connect to the N.C. towns of Tryon, Saluda and Zirconia.

March 16, 2023
SPARTANBURG COUNTY, S.C. (WSPA) – The Saluda Grade Trail is one step closer to reality following an agreement on the purchase of an inactive rail line.

A coalition of nonprofits, Conserving Carolina, PAL: Play, Advocate, Live Well, and Upstate Forever, announced that they have signed an agreement with Norfolk Southern on the terms of their future purchase of the line.

The group announced plans last summer for a 31-mile trail from Zirconia, North Carolina to Inman, South Carolina.

March 16, 2023
FOOTHILLS–A coalition of nonprofits with plans to develop a 31-mile rail line into the Saluda Grade Trail has reached an agreement with Norfolk Southern to sell the portion of the railroad. The coalition has a signed agreement with the Norfolk Southern establishing the price and other terms of the future purchase.  This coalition, consisting of Conserving Carolina, PAL (Play, Advocate, Live Well) and Upstate Forever, plans to repurpose the inactive rail line as a trail that will run through Tryon, Saluda and Landrum. The Saluda Grade Trail will begin at Inman and end in Zirconia, N.C.

Read more at: https://www.tryondailybulletin.com/2023/03/16/norfolk-southern-agrees-to-sell-31-mile-rail-line-for-saluda-grade-trail/
---